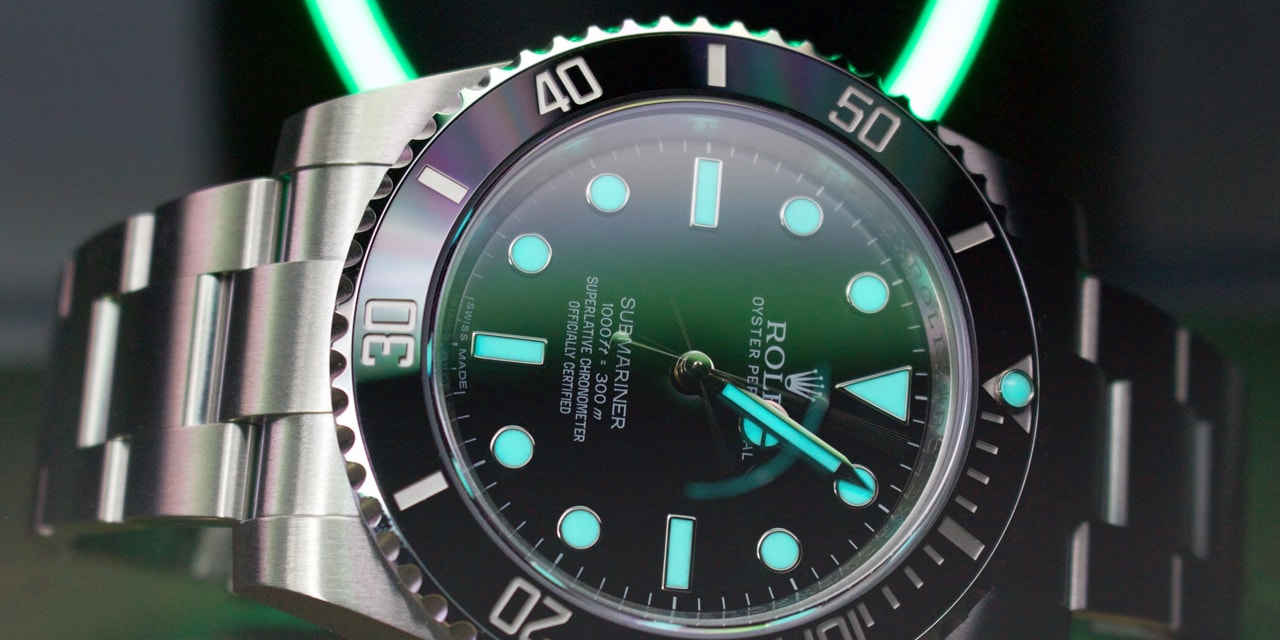 Why My Rolex Glows – Rolex Luminescence Explained Part II
In Part I of "What is the T on the bottom of my Rolex Dial," we discussed reviewed the markings that are commonplace on Rolex and other Swiss watch dials, as well as the use of Radium in watch dials prior to 1960. In this next section, we follow the next generation of watch luminescence, Tritium that was used in the next 20 or so year span. Tritium used in Rolex watches is signified by either "SWISS T < 25" or "T SWISS T" on the bottom of the dial.
SWISS T < 25 or T SWISS T = Tritium
Rolex followed the industry standards by utilizing Tritium rather than Radium as the preferred luminescent material on dials and hands starting in the early 1960's until the late 1980's as it was safer than Radium, was powered somewhat by radioactivity. Unfortunately, Tritium was still considered unsafe and was not as bright as Radium and seen as a step backwards. Tritium hands and dials luminescent ability would deteriorate with age as Tritium had a half-life of about 12 years, as well as Tritium would discolor to a tan/brown color if exposed to prolonged periods of sunlight. Additionally, Tritium is highly toxic when swallowed which made it unsafe for watch and nighttime instrument makers.
During this period, Rolex introduced hour dots made of white gold on the watch face for which the Tritium was applied. By having a white gold base, the Tritium would not crack and chip as easily and would not bleed into the dial. Rolex continues utilizing white gold on the watch face today but has replaced Tritium with SuperLuminova. Like with Radium dial and hands, if you send your Tritium outfitted Rolex to a Rolex Service Center, they will want to replace the dial and hands with a SuperLuminova equivalent thus lowering the value of what would be a vintage watch.
As with the rest of the watch industry, Rolex wrestled with providing luminescence to watch dials that was effective and safe. Late in the 20th Century, Rolex moved to SuperLuminova, and now well into the 21st Century, Rolex is introducing a new material, Chromalight that will be explained Part III of "What is the T on the bottom of a Rolex Dial?"
— Featured Photo Credit: Pixabay (cc) Archive.