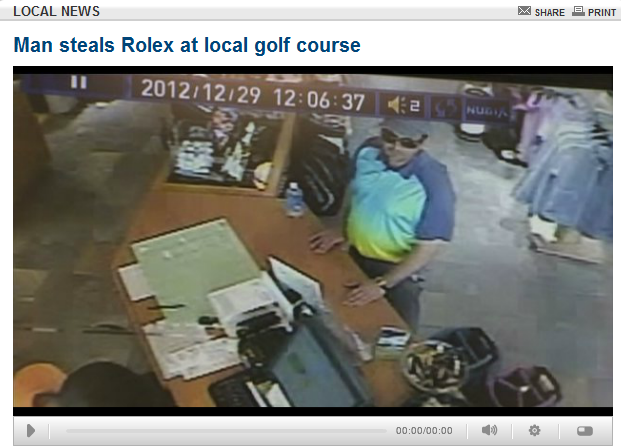 Another example of the safest place for your Rolex is on your wrist
WSVN News of greater Miami reported that a gentleman lost his Rolex to a thief while at a golf course.  According to the WSVN news report, the owner of the reported $10,000 Rolex removed his watch to prepare for the driving range at the Melreese Gold Course. The victim, Jack Varela, removes his watch while golfing because "It's a pretty heavy watch, So, I take it off and throw it in the bag."
Unfortunately, soon after Varela is driving golf balls, a man approaches Varela's golf cart and unzips the pocket holding the watch in the golf bag. By the certainty the perpetrator had in retrieving the watch, Varela claims that he was stalked.
The surveillance video shows the perpetrator in the pro golf shop wandering the store.  The video certainly dressed the part wearing golf clothing and golf hat.  Golf shop employees report that they have never seen the perpetrator before and after taking the watch, quickly left the premises.
Varela says that his hope that this guy is caught, "because he's probably going around to other golf courses doing the same thing to other guys."
This story goes to show that the safest place for your Rolex is on your wrist, even in golfing. Despite the debate whether a Rolex is tough enough for golf swings, if you are in doubt, put your Rolex in your pocket. Better yet, put your Rolex into one of these pouches sold on Beckertime, and then in your pocket.