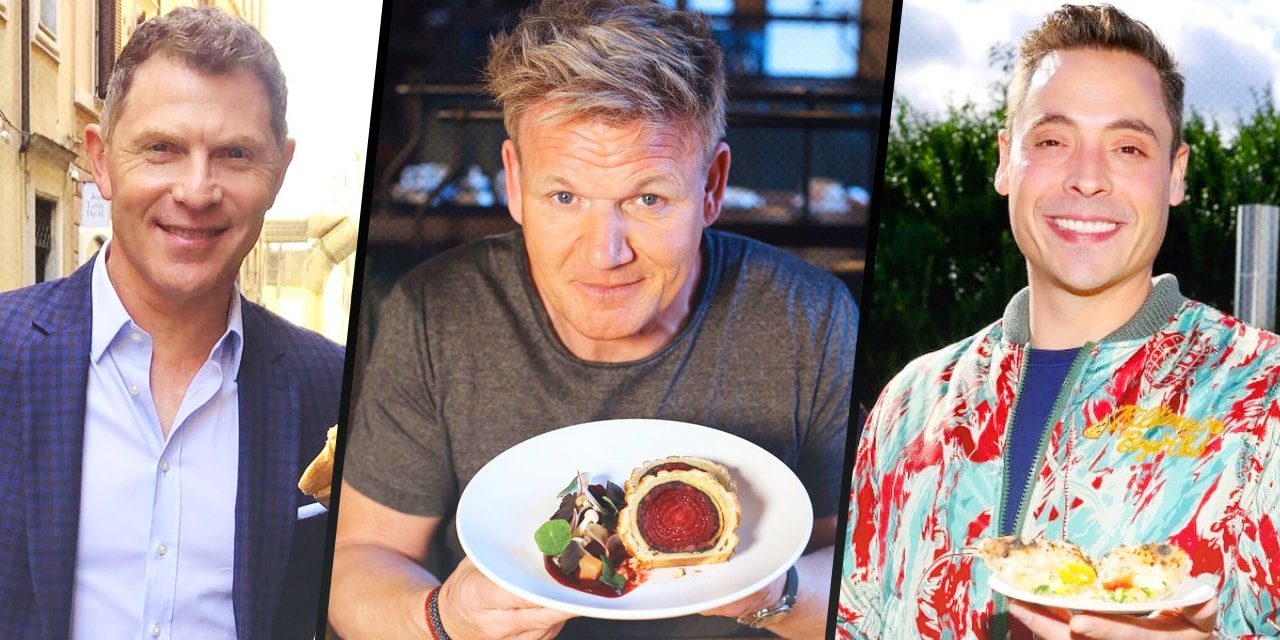 Celebrity Chefs and the Rolex Watches They Love
Along with movie actors, pro athletes, television stars, and business titans, there are plenty of popular chefs that also enjoy immense celebrity status. Thanks to the advent of cooking shows and entire TV channels dedicated to food, celebrity chefs are not only household names but in fact, global brands.
With all that fame and fortune of course some fabulous plush accouterments like luxury watches! And similar to other celebrities, there are a host of celeb chefs that appreciate a Rolex watch. Remember, the kitchen is an intense place with loads of action and heat—and timing is everything. Therefore, a chef's watch must be precise and durable, so it's no surprise that Rolex watches are a favorite in the culinary world. Let's get the dish on the Rolex watches that celebrity chefs love to wear.
Gordon Ramsay's Rolex Watches
As a television personality, Gordon Ramsay is known for his fiery temper and foul mouth, but there's no denying his masterful skill in the kitchen. Together with his fine taste in food, chef Ramsay also has luxurious taste in timepieces with an impressive collection of Rolex watches—both vintage and new.
He's been spotted wearing a vintage Submariner, as well as a modern white gold Submariner with the blue Cerachrom ceramic bezel and matching blue dial. Plus, we've seen a Rolex Deepsea on his wrist too. But these days, it seems his go-to Rolex is the Everose gold Yacht-Master 40 with the black Oysterflex rubber strap.
Anthony Bourdain's Rolex Watches
He may have started his career as a chef, but today Anthony Bourdain is also a prolific writer and highly popular television host. With is CNN show, Parts Unknown, Bourdain travels the globe and documents his experiences—both food and otherwise—for his millions of fans to enjoy.
In addition to collecting stamps in his passport, it's evident that chef Bourdain is also a watch collector as illustrated by the different timepieces we've seen on his wrist over the years. Among them, we've seen a couple of different Rolex watches including a modern stainless steel Datejust with a blue dial, a vintage Rolex Datejust from his dad, and a Milgauss with the signature green sapphire crystal.
Bobby Flay's Rolex Watch
If there's one culinary personality that embodies the celebrity chef image, it's Bobby Flay. A star of the Food Network, one of only a handful of Iron Chefs, a very successful restaurateur, and a cookbook author, chef Flay seems to have an abundant source of energy to get it all done!
Flay is also well known to be highly competitive so his choice of Rolex suits him perfectly—a white gold Day-Date with a sumptuous gray dial. After all, only the best for Bobby.
Guy Fieri's Rolex Watch
Perhaps the most flamboyant celebrity chef on TV right now, Guy Fieri is known for his showy style, colorful character, and offbeat catchphrases.
Chef Fieri, aka the Mayor of Flavortown and the host of Diners, Drive-Ins and Dives, is most definitely not discreet—and neither is his Rolex watch. A fan of glitzy jewelry and accessories, Fieri is often seen with a gold Yacht-Master II on his wrist, which with its large 44m sized case, bright blue ceramic bezel, and full yellow gold construction can be seen from a mile away. Go big or go home is Fieri's game.
Jeff Mauro's Rolex Watch
Often referred to as the Sandwich King, Jeff Mauro rose to fame as the winner during the seventh season of the popular Food Network Star. He is now the host of several television shows including The Kitchen.
And what does chef Mauro wear on his wrist? A contemporary Rolex Explorer II "Polar" with a white dial. An ideal watch for the kitchen, the Explorer II is not only highly attractive, but this Rolex sports watch is also robust and sturdy.
Emeril Lagasse's Rolex Watches
The celebrity chef that brought the BAM into the kitchen, Emeril Lagasse has been entertaining and cooking for his fans for decades. With a slew of books, shows, awards, and restaurants under his belt, chef Lagasse is one of the most famous culinary personalities in the US and the world.
During his decades-long career, chef Lagasse has amassed quite the watch collection including some fantastic Rolex watches. We've seen him wearing a platinum and steel Yacht-Master, a two-tone Datejust with a Jubilee bracelet, and a GMT-Master "Pepsi" with the classic red and blue bezel. Way to "kick it up a notch!"
Whether in or out of the kitchen, topnotch chefs only ever settle for the best ingredients, equipment, and gear. So it's only natural that they would arm their wrists with a delicious Rolex watch!
— Featured Photo Credits: Official Instagram of Celebrities in this Blog Post.