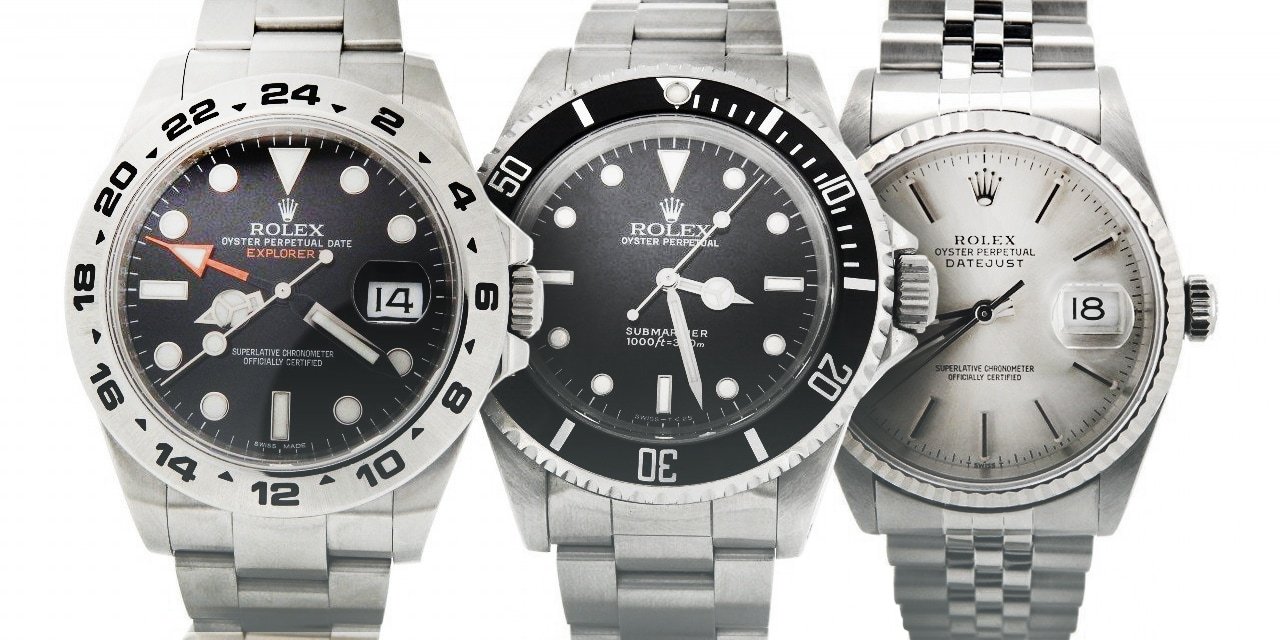 Stainless Steel Rolex Watches
Over its history, Rolex has produced a staggering number of watches. The variety in their selection is truly enormous and it is not difficult to get confused when faced with so much choice. Every person who comes to us knows they want a Rolex. But which one? Vintage or modern? A sports model or a dress piece? What size or dial color or metal? In steel, gold, platinum, or two-tone? It can seem like the list is endless.
So, to do what we can to help make your selection a little easier, we are going to be running a series of specially prepared articles. In them, we'll break down Rolex's vast catalog by section. Think of it as your own carefully curated playlist of the brand's greatest hits. Hopefully it will act as a handy reference guide to make your decision that little bit easier.  To kick off, we'll start with some of the most accessible models in the Rolex canon, the stainless steel Rolex watches.
Stainless Steel Rolex
Rolex has built its reputation by making the toughest tool watches money can buy. Their stainless steel Rolex models have been to the summit of Everest and to the deepest depths of the ocean. Explorers above ground and underwater have long put their trust in their rugged reliability. But the more formal offerings retain a nicely understated wrist presence that can match any occasion.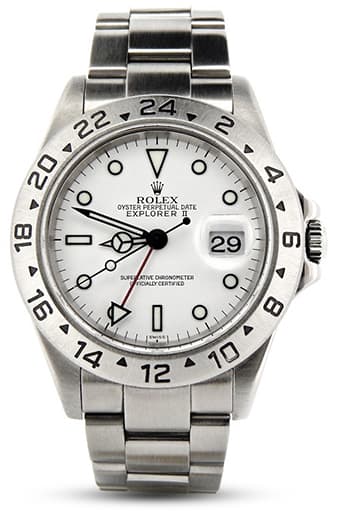 Throughout the range, there are some models that have only ever been made in stainless steel. There are some that started life in steel before being released in a variety of precious metals as their popularity grew. And there are still others that have had to wait for their steel versions. This is usually the case with the Yacht-Master II and the new Sky-Dweller. Potential customers adored the watch but couldn't stomach the price tags attached to the gold or platinum versions.
Here at Beckertime, we have a huge selection of stainless steel Rolex watches, and below we highlight some of the best.
The Rolex Oyster Perpetual
Often considered the entry-level Rolex, the Oyster Perpetual series is as simple as a watch can be. It's a straightforward, three-hand, no date creation that can trace its lineage back to the very earliest days of the brand's story.
However, it's unlike, say, an entry-level car that's missing all the things you really want. An entry-level Rolex is still a Rolex.
So, it has the same level of prowess in its engineering and the same obsessive attention to detail in its construction as models twice or three times the price.
The steel in its case and bracelet is identical to that used throughout the whole range. The calibers are fitted with the same groundbreaking components and subjected to the same consistent upgrades.
Oyster Perpetuals are perhaps the most unassuming watches Rolex make, or have ever made. In the archives, you will find gold versions, but the vast majority are forged from Rolex's flawless stainless steel.
Interestingly, until very recently, they have never been larger than 36mm. As a result, they make the ideal wear for both men and women. Or, for a truly elegant female timepiece, the Ladies Oyster Perpetual series are all under 30mm.
If you are looking for the perfect gateway into the world of vintage Rolex collecting, or are just after that one good watch that will last a lifetime to pass down as an heirloom, the Oyster Perpetual should be your first port of call.
The Rolex Submariner
Think Rolex, think Submariner. Perhaps the single most iconic model ever built, it has been the undisputed champion of dive watches for over half a century.
Launched in 1953 and an immediate success, it wasn't long before the first gold examples put in an appearance. But it is that timeless design in all steel that tops most fans' wish lists.
During its lifespan, there have been a slew of different references. Each with the usual minute variations that can add significant premiums depending on their relative scarcity. It is possible to spend incredible amounts on the rarest versions. But, with the scale of Rolex's output, the sheer number of Subs available to buy on the pre-owned market has kept their buy in price surprisingly attainable.
The most popular model of all time, from the world's most successful watchmaker, there isn't a Rolex collection complete without at least one Submariner.
The Rolex Explorer II
Designed for the world's most hostile environments, the perpetually underappreciated Explorer II has only ever been forged from steel. (So if you see a gold one for sale, run!)
A dark horse with a rich history, it has always lived in the shadow of Rolex's other sports watches. This is particularly true with the GMT-Master—the first of their dual time models.
However, in recent years, the Explorer II's stock has been on the rise. As the rest of the range has gotten evermore gentrified, it is the Explorer that has stuck most rigidly to its tool watch roots. It represents the essence of Rolex, and has garnered itself something of a cult following because of it.
Launched in 1971, its outward appearance has barely altered over the last 40 years or so. However, the biggest change comes with the release of its most recent iteration, the ref. 216570. This is when it grew in size to 42mm from the previous 40mm.
Inside, its most significant improvement came in 1985, when the ref. 16550 introduced the ability to adjust its two hour hands independently from each other, turning it from a mere night and day indicator into a true GMT.
Certain versions of that particular reference also represent some of the most valuable examples of the watch. Available for the first time with a white, or Polar, dial, a defect in the paint causes them to fade to a creamy ivory after exposure to UV rays. It's a progressive effect, making each one unique—magic words to serious Rolex collectors.
904L Steel
Always one of the toughest models around, the latest versions are made from 904L steel (or Oystersteel as I guess we're all going to have to say now). Ultra-strong and virtually bombproof, it makes the stainless steel Rolex Explorer II more than a match for the worst kind of punishment.
The Rolex Datejust
Up there with the Submariner in Rolex's signature models, the ubiquitous Rolex Datejust range has one of the longest unbroken runs in the brand's history.
Way back in 1945, it was a  real innovation on its release. Ultimately, it became the first self-winding waterproof watch with a date function.
Always the more attainable option than the exclusively precious metal President, the Datejust's simple design and more modest persona has given it a wider reaching appeal.
It is also the watch with possibly the most varied assortment of styles, from any manufacturer. The choice in different bezel, dial, bracelet and index configurations over the years are too great to count. There is a Datejust to suit literally anybody.
Lower Price Point
The stainless steel models, as well as underlining the less pompous nature of the watch, also makes it an extremely tempting purchase as far as price goes.
For a watch with such an impressive heritage, it is possible to join the Datejust owners club for a surprisingly small outlay.
At Beckertime, we always have a great assortment of both men's and ladies Datejust models on offer. These range from rare vintage pieces up to the latest contemporary models.
The stainless steel Rolexes have long been the most popular versions in any particular series. Partly because of the lower costs, but also for the versatility. Their neutral tones complement far more situations than yellow gold can. It's also more resilient as a daily wear.
Whichever model you have your eye on, take a look through our online store for the best Rolex prices and wide selection of authentic stainless steel Rolex watches.
— Featured Photo Credit: BeckerTime's Archive.