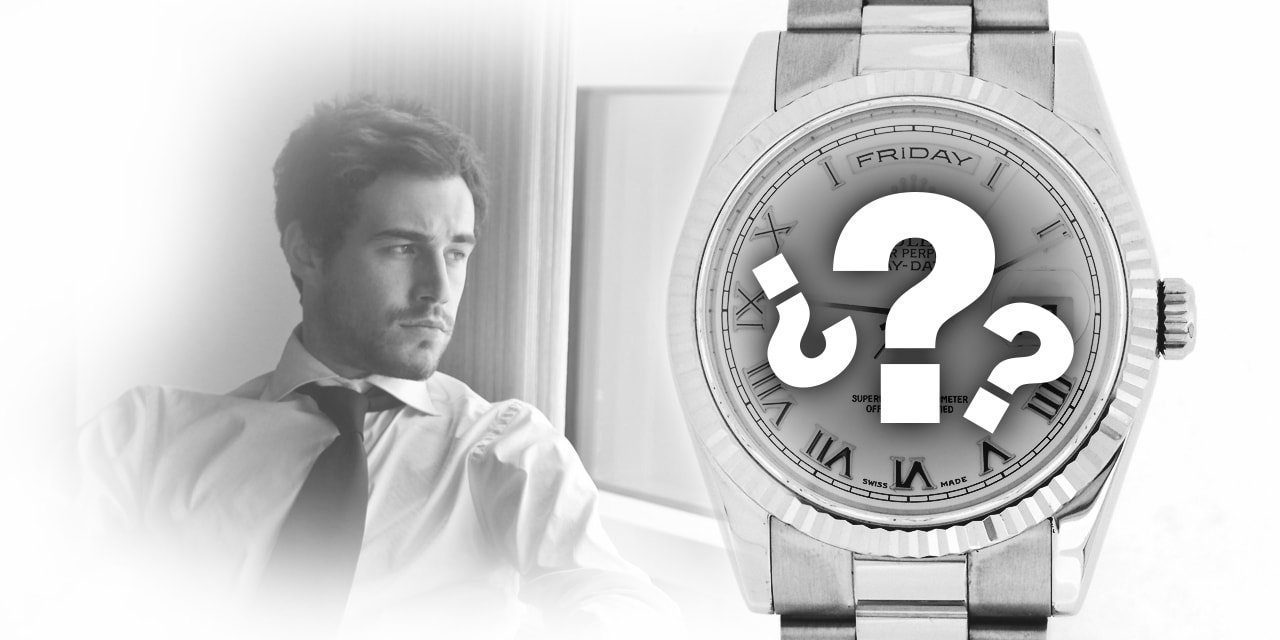 The Best Rolex Watches That Don't Exist (Yet!)
Imagine you were suddenly put in charge of Rolex SA.
You get free rein over the company's gargantuan resources and can bend them to your every whim. You can create any new model you like, and you can do whatever you want to the pieces that already exist.
What do you do?
Dream Watches
It is a game many fans play on a regular basis, and the ideas people come up with tend to range from the 'I-can-see-that-actually-happening-one-day' to the 'no-way-Rolex-would-ever-dare'.
A few would involve little more than a gentle tweak of something that already exists, while others would require a major investment in R&D.
I got in contact with a few chums for their take on it, and asked them to give me the one watch Rolex doesn't yet make that they want to see more than any other, and below I've picked out some of my favorites.
Rolex Day-Date in Stainless Steel
This was, believe it or not, by far the most common craving brought up by my reprobate friends, and it is something they've been banging on about since the Sky-Dweller emerged in steel a couple of years ago.
That model, the ultimate luxury traveller's watch, was also an exclusively precious metal offering when it first launched in 2012, with many put off by both the price tag as well as the unorthodox looks of the thing. However, those aesthetics have since matured, and the reduced cost of the 904L version has led to a significant bump in sales.
So, if that flagship globetrotter can condescend to a steel body, albeit with a white gold bezel, why not the President itself?
Chances of it Happening
You may not know this (I certainly didn't), but Rolex has already made steel examples of the Day-Date. Six of them in fact! They were a mere taster of the ref. 6611 generation from 1959; prototypes that came and went in the blink of an eye.
As for a full production run anytime soon? I'm going to be generous and give it about a 30% chance of seeing the light of day. There are a few issues with it coming true, perhaps highest among which is the fact that Tudor, Rolex's sister company, already makes a stainless steel Day-Date, at a very reasonable price.
In addition, there is the prestige to think about. The President has been the most aspirational model in the Rolex portfolio since its arrived in 1956. Much of that has been down to its uncompromising nature; not even a half and half Rolesor version has sullied all that gold and platinum. To change that now could put a dent in the brand's cachet, although it certainly hasn't done the Sky-Dweller any harm. But, of course, the Day-Date needs absolutely no help in the sales figures department.
If it was to happen, I would expect there to be a unique design attribute to the steel models, much like the platinum examples now are the only ones to have the ice blue dial. Something to inform those people in the know you are wearing the steel rather than white gold piece.
In short, it would be a surprise but not a shock.
Rolex GMT-Master II 'Coke'
I'll admit, this is one of mine. Surely, surelya black and red bezeled GMT is waiting in the wings at Rolex HQ, just biding its time till it is unleashed and takes an already lusted after watch positively stratospheric.
The model itself is only rivaled in popularity by the legendary Submariner, and demand for the other bi-color schemes in the model's arsenal is immense. The blue and black Batman has become a must-have, with waiting lists that will outlive us all and prices on the pre-owned market easily double retail. And as for getting your hands on the long-awaited red and blue Pepsi? Fuggedaboutit!
So the Coke already has an audience very ready, willing and able to buy, and they are likely to shell out just about any amount of money.
Chances of it Happening
I'd like to think of this as a when rather than an if. The first Coke bezel arrived in 1983, with the debut GMT-Master II, otherwise known as the Fat Lady.
A reissue of that crucial reference seems like something Rolex would wait for an anniversary to do, and those kinds of events are usually celebrated on the 50thbirthday of a particular model.
2033 seems like a long time to wait, so who knows? Maybe they'll decide to celebrate on its 40thin just four years time.
Or maybe they just won't do it at all—this isRolex we're talking about!
Rolex Perpetual Calendar
Since the turning of the new millennium, Rolex has certainly started to venture further down the road of advanced complications than it ever has before.
In quick succession they brought us the Yacht-Master II, with the first-of-its-kind regatta countdown with mechanical memory, followed by the Sky-Dweller, with the brand's debut annual calendar. 2017 saw the Cellini range, their collection of ultra sophisticated dress watches, gain a moonphase, something not seen on a Rolex since the 1950s.
It is likely this is a pattern that will continue; the question is, where?
True to its roots, most of the complications added so far have been overtly useful—tools, if you like. You could argue that a moonphase is a little more style over substance, which is probably why it was confined to the Cellinis, but it can still come in handy.
There are a number of options we often see in the likes of Patek Philippe or some other haute horology brand when it comes to enhanced functionality. I think we can all agree that it will be something of a departure from everything we hold dear about Rolex if they suddenly brought out a tourbillon, what with them being virtually useless in a wristwatch.
Similarly, a minute repeater is fun and a joy to use, but seems just a little too twee given the brand's traditional client base.
But what about a perpetual calendar? More complex and generally far more expensive than annual calendars, they are a testament to the watchmaker's art, and Rolex has more than enough expertise on hand to build a showstopper.
Hmmm….!
Chances of it Happening
There has definitely been some horological muscle flexing out of Geneva in recent years, after decades of the brand sticking resolutely to its roots of mechanical simplicity.
If a perpetual calendar was to emerge, it would likely be as part of the Cellini series. The Oyster Collection models are designed to be worn everyday, and that would be asking a lot of the highly intricate movement to endure, even for Rolex.
A perpetual calendar watch is one for special occasions, plus it would likely be extremely pricey and something the owner would want to take good care of.
Nevertheless, if Rolex were of a mind to really push themselves while still letting function dictate their direction, a perpetual calendar complication is both very useful and tremendously impressive. It could well be the logical next step.
Rolex Explorer II in Rolesor
Let me just state right away; I really hope not! That being said, it is far from outside the realm of possibility.
After all, this year's Baselworld saw the introduction of a steel and yellow gold version of that manliest of tool watches, the Sea-Dweller.
There are fans and detractors of that watch on both sides (and I know which I am), but the fact remains that two-tone is coming back into fashion in a big way.
The further fact remains that the Explorer II is probably due an update. Originally released in 1971, it has been one of Rolex's unsung heroes pretty much ever since. Its last big shakeup came in 2011, with the current reference 216570. That saw it gain an all-new caliber (the first one exclusive to the model and not shared with the GMT-Master) as well as an increase in dimensions, up to 42mm from 40mm. It is a similar pattern to the Sea-Dweller itself in recent years, which grew significantly in 2017.
So, there is definitely an opportunity there.
Chances of it Happening
There has never been anything but the hardest stainless steel used in the Explorer II's construction, very much like the Sea-Dweller until this year.
Unlike the professional dive watch however, the Explorer II really occupies a little subset all to itself. It is the cult hero, the 'forgotten Rolex' and the watch with the least amount of variation over its nearly 50 year run.
As such, it is becoming a real darling on the preowned market, with models new and vintage being snapped up by fans from back when Rolex made nothing but full on tough-as-nails tool watches.
Would they risk alienating those buyers by gentrifying the Explorer and its old school ways?
I wouldn't risk an opinion, and I certainly wouldn't put any money on it either way. Time, I guess, will tell.
Platinum Submariner and GMT-Master II
It has been a long, long time since the likes of the Submariner or the GMT-Master were put to the uses for which they were actually created.
In fact, you could say that about any luxury mechanical watch. High end timepieces are now all about passion and emotion and expression. If you want to keep an accurate track of your immersion time underwater, you use a dive computer. If you want to find out what time it is at home while you're away in some foreign land, well, that's what your phone is for, along with a million other uses.
What we call Rolex's tool watches are now anything but—they are symbols of the wearer's personality and status, and as a result they have been appearing in precious metal garb for years.
Two tone and solid 18k gold Subs and GMTs are nothing new, but what are the chances of platinum versions of either?
Chances of it Happening
Honestly, this one wouldn't surprise me. We do, of course, already have a platinum Daytona, and with its ice blue dial (something Rolex reserves only for its platinum pieces) it is a stunner, with a price tag to match.
There doesn't seem any good reason why the racer should get the ultimate treatment and not the world's favorite diver's and traveler's watches.
Each has been around for longer and still enjoy at least the same level of popularity as the Daytona.
The GMT-Master for one has been given a raft of new and interesting updates in recent years, and the Sub is no stranger to the odd unexpected color scheme either.
The only thing that might curtail it is, Rolex again tend to use platinum in anniversary pieces. The 50thand 60thbirthdays of both has been and gone, so maybe we'll see something on the pair's 70th, in 2023 and 2024 respectively.
Rolex Smart Watch
Just… no
Chances of it Happening
Is there a number less than zero?
— Featured Photo Credit: BeckerTime's Archive.