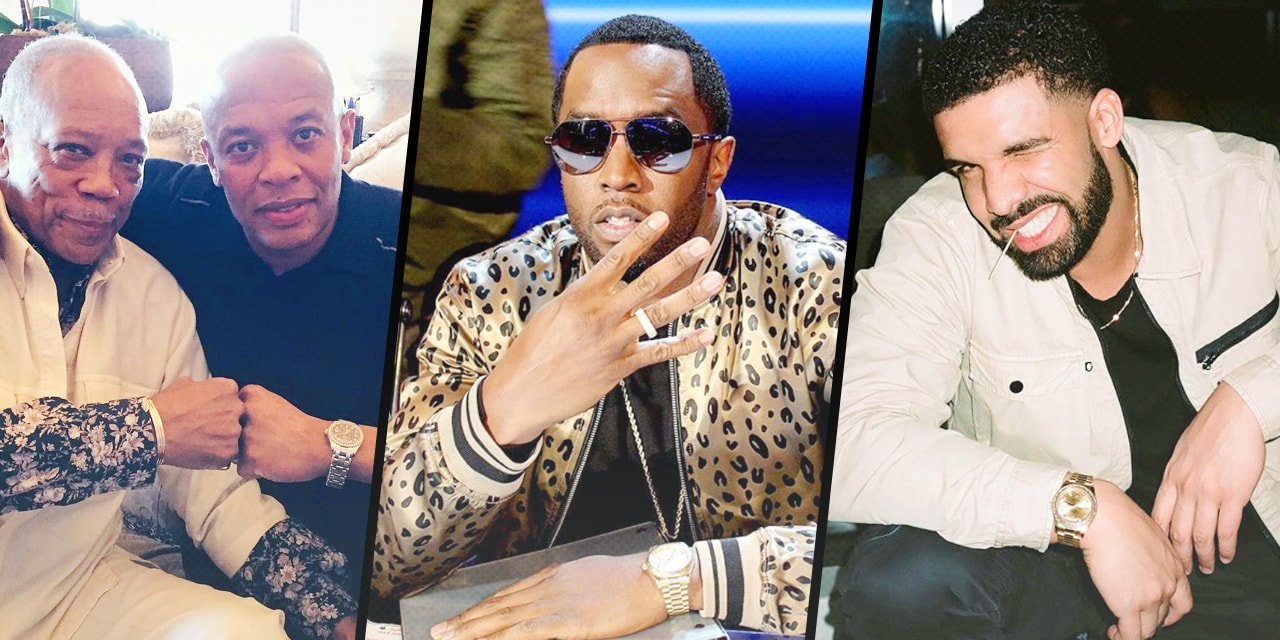 The Five Wealthiest Hip Hop Artists and Their Rolex Watches
Hip Hop Artists and Rolex Have a Lot in Common
In March earlier this year, Forbes magazine crowned the five wealthiest artists in hip-hop. They are Jay-Z (estimated net worth: $900 million), Diddy (estimated net worth: $825 million), Dr. Dre (estimated net worth: $770 million), and tied for fourth place are Drake and Eminem with an estimated net worth of $100 million each. Aside from top records, sell-out shows, mammoth mansions, and fast cars, what else do these mega music moguls have in common? A love for expensive luxury watches including Rolex watches! Let's have a look at hip hop artists and Rolex to find out what Rolex watches the five wealthiest hip hop artists of 2018 choose to wear.
Eminem's Rolex Watches
While these days we see Eminem wearing a yellow gold Audemars Piguet Royal Oak on his wrist—most notably while he performed at Coachella last month—Eminem has worn several Rolex watches in the past.
We've seen the best-selling rapper of all time wearing at least three different Rolex watches. These include a stainless steel Submariner with a black dial and black bezel. Also, a white gold Rolex President with diamonds on the dial, and a stainless steel Datejust with a white gold fluted bezel and Roman numerals on the dial.
Drake's Rolex Watches
The youngest man on the list is 31 years old. Canadian rapper Drake's stratospheric rise to hip hop's highest echelons is impressive. Along with his love of luxury cars and huge houses, Drake is famously a fan of expensive watches too. Drake has plenty of Rolex Day-Date President watches in his collection for example, in a range of metals and configurations like yellow gold, rose gold, and white gold—some with diamonds and some without.
For sportier Rolex watches, Drake also loves a Daytona chronograph. We've seen him wearing a yellow gold version as well as a rose gold one. Also in Drake's jewelry box is a yellow gold GMT-Master II with a gem-set bezel blanketed with diamonds and black sapphires. Drake's taste in Rolex watches is diverse, as he also owns a yellow gold Yacht-Master II with the bright blue ceramic bezel, in addition to an Everose gold Sky-Dweller.
Dr. Dre's Rolex Watches
During his younger years, Dr. Dre was often photographed with a yellow gold and diamond Rolex Day-Date gleaming on his wrist. These days however, the 53-year-old super successful rapper, record producer, and businessman is loyal to his platinum Rolex Masterpiece watch with a diamond bezel. In fact, when Dr. Dre took to the stage for a surprise performance with Eminem at Coachella 2018, we saw the ultra-lavish Rolex on his wrist. (Fun fact: rapper 50 Cent also joined Eminem at Coachella and he was wearing the white gold Submariner with the blue ceramic bezel and blue dial.)
For those of you who may not be familiar with the Rolex Masterpiece, it's actually a special edition of the Rolex Day-Date fitted with a precious metal five-link Masterpiece bracelet similar to the ladies' Pearlmaster bracelet.
Diddy's Rolex Watches
During the course of his career, Sean Combs has adopted several stage names like Puff Daddy, Puffy, P. Diddy, but today he's happy to go by Diddy. The massive entertainer leveraged his celebrity status to venture into other businesses such as fashion lines and beverage companies. We also see him regularly on TV as one of the celebrity judges on Fox's new singing competition show, The Four.
On that show, we often see Diddy wearing a yellow gold Rolex Day-Date 40 on his wrist. In addition to his prestigious Rolex dress watch, we've also spotted Diddy wearing a gorgeous Everose rose gold Daytona chronograph. And Diddy doesn't just buy Rolex watches for himself; he has a glorious habit of buying them for his family including his children.
Jay-Z's Rolex Watches
For 2018, Sean Carter, aka Jay-Z, takes top spot as the wealthiest hip hop artist on Forbes' list. He knocks Diddy to second place this year. Not satisfied with just being one of the best selling musicians of all time, Jay-Z runs a business empire that covers industries like fashion, beverages, entertainment, sports, and restaurants. Personally, Jay-Z also likes to spend some of his incredible wealth on top timepieces including Rolex watches.
Along with the ever-favorite yellow gold Day-Date President Rolex watches, Jay-Z also wears a full yellow gold Sky-Dweller, a platinum Day-Date President, and the highly coveted steel Daytona with the black ceramic bezel. It's also been reported that Jay-Z has a very special Rolex Perpetual Calendar modified by famed watchmaker Franck Muller. A serious watch enthusiast indeed.
Rolex watches have always been a favorite among the hip hop crowd. The brand not only appears on wrists of artists but also in song lyrics. So, it's only natural that the five richest men that dominate this music genre would have plenty of Rolex watches in their own personal collection.
— Featured Photo Credits: Official and Fan Instagram of Celebrities in this Blog Post.