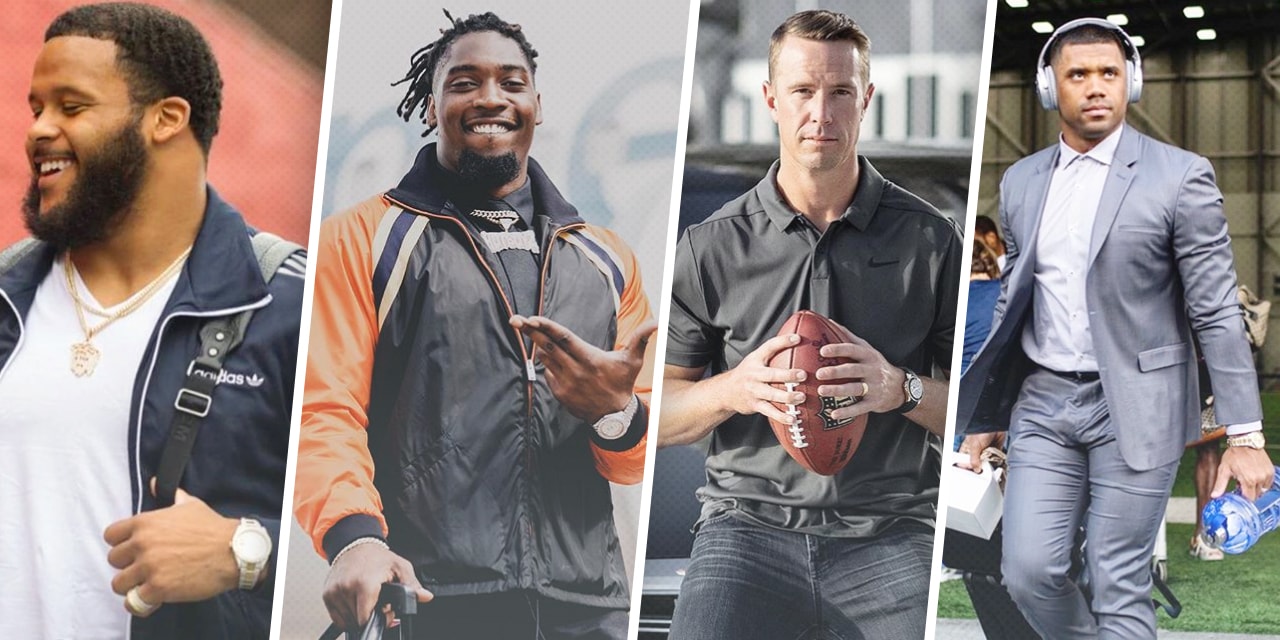 The Rolex Watches of the Highest Paid NFL Players for the 2018 Season
As football is well underway, Business Insider recently published an article highlighting the NFL's highest paid players for 2018. As we've said many times in the past, where there's money, there are usually some Rolex watches too! Take for example this group of wealthy football players who we've seen wearing a Rolex (or two) on their wrists. Join us as we take a look at the Rolex watches of some of the highest paid NFL players of 2018.
Aaron Donald
Los Angeles Rams, Position: Defensive end
Earlier this year, Aaron Donald signed a six-year contract extension with the Los Angeles Rams worth $135 million. At the time of the signing, the 27-year-old pro football player became the highest-paid defensive player in NFL history! With an average annual paycheck of $20 million, he can certainly treat himself to a host of luxury watches.
We've spotted Aaron Donald wearing a couple of Rolex watches recently. These include the classic yellow gold Rolex Day-Date President and—what appears to be—a two tone Datejust lavishly set with custom diamonds.
DeMarcus Lawrence
Dallas Cowboys, Position: Defensive end
DeMarcus Lawrence may have only signed a one-year contract with the Dallas Cowboys this year, but his $17.1 million salary is no small change!
Although the 26-year-old South Carolina Native was quoted as saying, "I'm truly blessed and won't spend a dime until I get a long term deal," we did see a gleaming custom diamond-set Rolex with a Jubilee bracelet on his wrist. We can't wait to see what Rolex watch he picks up once he does get the deal he's waiting for.
Khalil Mack
Chicago Bears, Position: Linebacker
The day after Aaron Donald signed his contract to become the highest-paid defensive player in NFL history, Khalil Mack took the honor with his six-year extension contract with the Chicago Bears worth a staggering $141 million. And this was after he was traded by the Oakland Raiders to the Chicago Bears.
What does the current highest paid defensive player in NFL history choose to wear on his wrist? None other than a yellow gold Rolex Day-Date President of course—the symbol of success.
Aaron Rodgers
Green Bay Packers, Position: Quarterback
Considered by some as one of the greatest quarterbacks of all time, this year marks Aaron Rodgers' tenth year as the Green Bay Packers' starting QB. In August of this year, he signed a new four-year $134 million contract extension with the Packers—making him the highest-paid player in the NFL.
We've seen several luxury watches from various brands on Aaron Rodgers' wrist, but the one that caught our eye was the hefty stainless steel Rolex Deepsea Sea-Dweller with a black dial.
Matt Ryan
Atlanta Falcons, Position: Quarterback
Matt Ryan's five-year $150 million contract with the Atlanta Falcons makes the 33-year-old quarterback the second highest paid player in the NFL. Bringing home $30 million a year just in salary, Matt Ryan has plenty of cash to spend on luxuries like awesome Rolex watches.
It's safe to say that Matt Ryan is a Rolex fan as we've seen him wearing plenty of different ones over the years. These include an Everose gold Yacht-Master 40 with the black Oysterflex strap, a full yellow gold Sky-Dweller, the platinum anniversary Daytona with a brown ceramic bezel and ice blue dial (fitting as his nickname is "Matty Ice"), and the green "Kermit" steel Submariner. Quite the Rolex collection, indeed!
Russell Wilson
Seattle Seahawks, Position: Quarterback
When Russell Wilson signed his four-year $87.6 million contract extension with the Seattle Seahawks in 2015, he became the second highest paid player in the NFL at that time. For the 2018 season, Russell Wilson has one of the largest base salaries in the league, set at $15.5 million.
While "highest paid" may be a tricky label to pin down in the NFL given how players' contracts, signing bonuses, and salaries are structured, it's unquestionable that these top earners are some of the richest athletes playing right now. Top points for some great Rolex watches too.
— Featured Photo Credits: Official and Fan Instagram of Celebrities in this Blog Post.