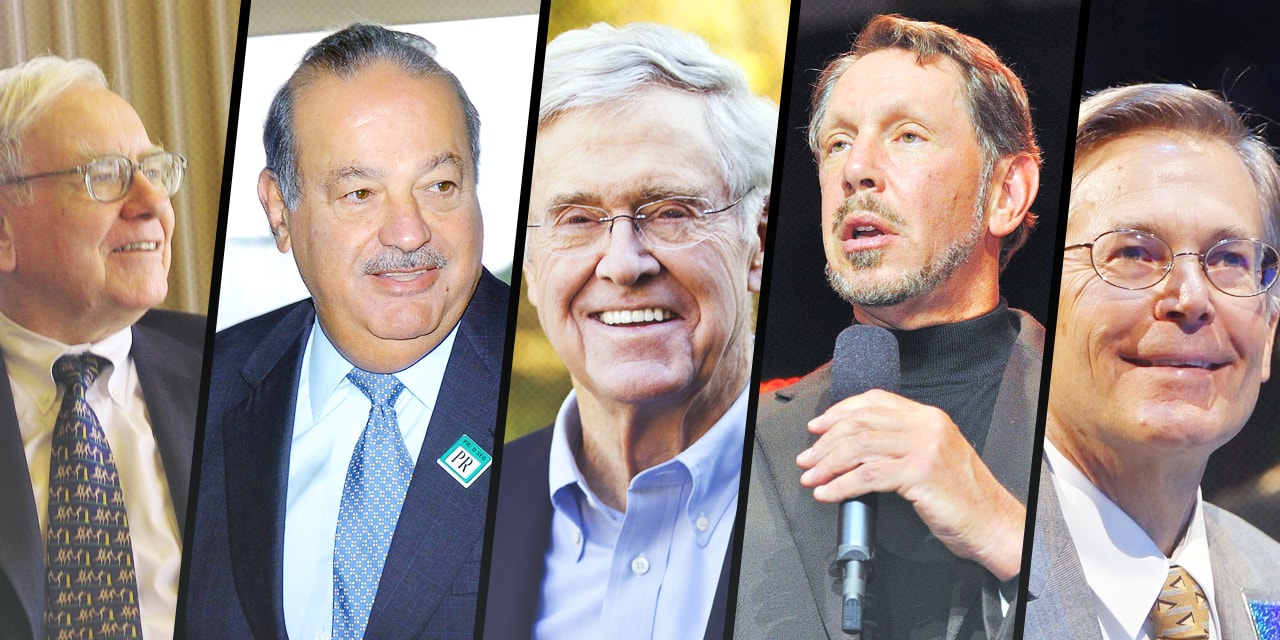 The World's Billionaires and Their Rolex Watches
It's hard to imagine, but according to Forbes, there are 2,208 billionaires on this planet. This select group of ultra-wealthy people, aka the "three comma club," includes 585 Americans—the largest nationality by far. Naturally, we were curious to see which members of the 2018 Billionaires Club wear Rolex watches and unsurprisingly, we found quite a few. Read on to discover what Rolex watches some of the world's billionaires choose to wear on their wrists.
Warren Buffett's Rolex Watch
For a man who is worth an estimated $84 billion and currently the third richest person in the world, Warren Buffet has relatively modest tastes. The "Omaha Oracle" famously lives in the same house in Omaha, Nebraska he purchased in 1958 and he's pledged to give away 99% of his vast fortune to charity.
He does however, wear a very prestigious Rolex watch and has done so for decades. We rarely see Warren Buffett without his 18k yellow gold Day-Date President on his wrist. The perfect luxury watch for such a successful businessman. In fact, not satisfied with just owning one of their products, it's been reported that Warren Buffet tried to purchase the Rolex company in the past!
Carlos Slim Helu's Rolex Watch
The 7th richest billionaire on Forbes' list and worth an estimated $67.1 billion, Carlos Slim Helu is a Mexican business titan that controls the America Movil telecom company, as well as other businesses in construction, mining, media, and real estate.
In terms of watches, we often see Carlos Slim with a sporty stainless steel Rolex Daytona chronograph on his arm with a sleek black dial and steel bezel. While not an inexpensive timepiece, Mexico's richest man could most definitely afford more lavish Rolex watches. But the stainless steel Daytona is his pick and we applaud it!
Charles Koch's Rolex Watch
Tied with his brother David for 8th place, Charles Koch is worth an estimated $60 billion with a 42% stake in Koch Industries—the country's second largest private firm.
We've seen the Kansas native with some very nice watches on his wrist including some Patek Philippe pieces. But the one that caught our eye is Charles Koch's understated stainless steel Datejust with a simple white dial and sturdy Oyster bracelet. Judging from how it wears on his wrist, we assume it's a larger Datejust—maybe a Datejust II or Datejust 41.
Larry Ellison's Rolex Watch
The co-founder and former CEO of Oracle, Larry Ellison is worth an estimated $58.5 billion and ranks as the 10th richest man in the world. He spends his fortune amassing incredible lavish properties around the world, including owning 98% of the Hawaiian island of Lanai.
Larry Ellison's timepiece tastes seems to lean toward robust stainless steel sports watches including models from Panerai, Richard Mille, and, of course, Rolex. Larry Ellison's Rolex watch is none other than a stainless steel Submariner with the classic black dial and black bezel configuration.
Jim Walton's Rolex Watch
The youngest son of the Sam Walton (the founder of Walmart), Jim Walton is worth an estimated $46.4 billion and is currently ranked as the 14th richest person in the world thanks in part to his role running Arvest Bank and stocks in Walmart.
Similar to some other members of the billionaire's club listed here, Jim Walton favors a stainless steel Rolex watch—the Explorer to be exact. Long known as Rolex's entry-level sports watch, this is one subtle Rolex watch for one of the world's wealthiest businessmen!
Now it isn't shocking to see that the super rich would opt for a Rolex watch, the leading luxury watch brand in the world. But what is interesting is that these ultra-wealthy individuals tend to (with the exception of Warren Buffett's gold Day-Date) pick less inexpensive stainless steel models over flashier precious metal watches. At least that's what they wear in public. Who know what kind of luxury timepieces they may have stashed away in their private collections!
— Featured Photo Credits: Wikipedia Bio's of Celebrities in this Blog Post.