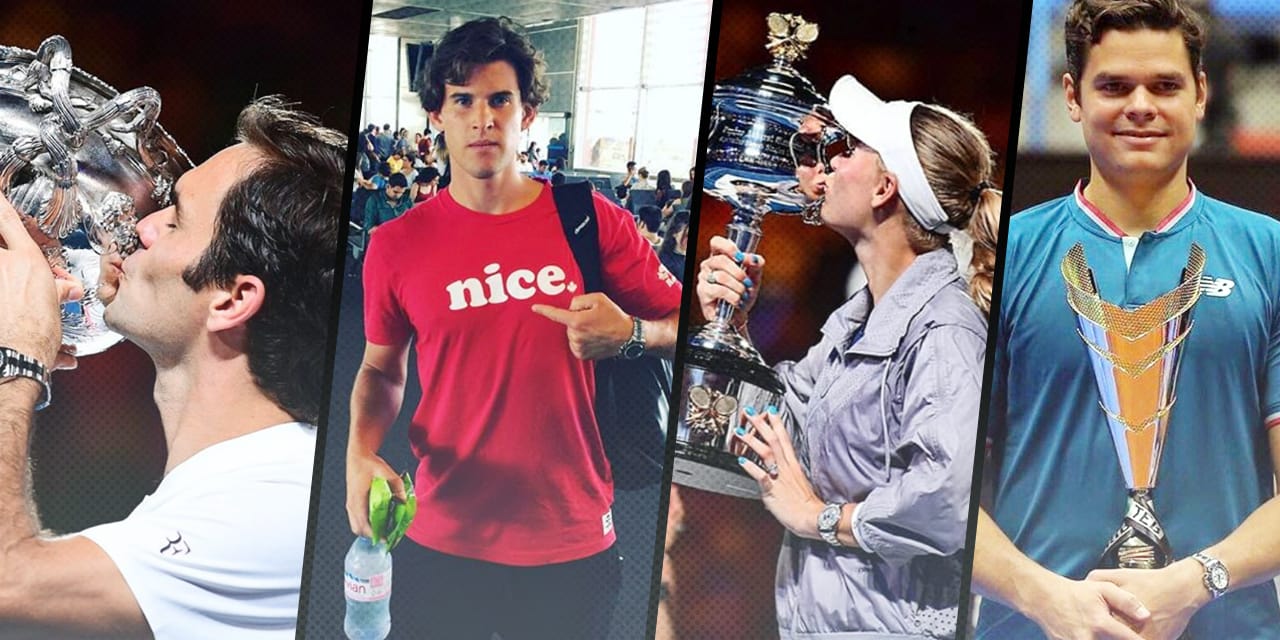 Top Tennis Players and Their Rolex Watches
The French Open Grand Slam recently wrapped up and the Wimbledon Championships are just a few months away. That got us thinking about the top tennis players and Rolex watches they choose to wear. Rolex is a big supporter of tennis. In fact, this year marks 40 years of the watchmaker's involvement in the sport. The brand is not just a sponsor of large-scale events like the Australian Open and Wimbledon, but also boasts a large roster of tennis players as brand ambassadors. From the best tennis player in the sport's history, Roger Federer, to young pros like Dominic Thiem. Here's a list of the top tennis players and Rolex watches that they choose to wear.
Roger Federer's Rolex Watches
The Swiss tennis legend has been part of the Rolex family since 2006. So, it's easy to see that the relationship is a perfect match. Both hailing from Switzerland and both masters of their craft, the Roger and Rolex partnership can't be beat.
As expected, over the last two decades, Roger Federer has been spotted wearing some of the greatest watches from Rolex. We can only imagine how fantastic his personal watch collection is. These days, Roger Federer is partial to the new stainless steel Sky-Dweller with the blue dial. The 42mm sized case is perfect for his wrist, while the annual calendar functionality must come in handy during his frequent global travels.
We have also seen Roger Federer wear other Rolex watches. These include the stainless steel and ceramic Daytona, a rose gold Daytona, the stainless steel GMT-Master II "Batman," and a two-tone Datejust 40 with the so-called "Wimbledon" dial. The champ even has a 1981 vintage Daytona 6263, which he received on his 30th birthday—an incredible birth year watch, indeed.
Fun fact: Roger's wife, Mirka Federer, is often photographed with a Rolex watch on her wrist. Her watches include the incredible platinum Day-Date President with an emerald bezel and diamond pavé dial, and also includes the colorful Everose Yacht-Master 40 with the rainbow sapphire bezel.
Milos Raonic's Rolex Watches
Canadian tennis player Milos Raonic just announced his withdrawal from the French Open due to an injury. However, he has plenty of fans hoping for a swift return to the courts—perhaps as soon as Wimbledon.
The current Rolex watch of choice for the 27-year-old pro? The ever-popular stainless steel Daytona with the black Cerachrom ceramic bezel. Milos Raonic's particular model has a white dial. This is also known as the Panda Dial. Aside from the super sporty Rolex chronograph, we have also seen Milos Raonic wearing an Everose rose gold Yacht-Master 40 with a black Oysterflex bracelet and a dressier two-tone Datejust watch.
Dominic Thiem's Rolex Watches
Currently ranked #8, Austrian tennis player Dominic Thiem made headlines a couple of weeks ago when he defeated Rafael "The King of Clay" Nadal in the quarterfinals of the Madrid Open. Now, all eyes are on Dominic Thiem to see how he'll progress in his career.
On his wrist, Dominic Thiem sports the (naturally) stainless steel and ceramic Daytona chronograph—a favorite among tennis players it seems! However, unlike his colleague Milos, Dominic Thiem's ceramic Daytona includes a sleek black dial rather than the crisp white one. We've also seen Dominic Thiem wearing a stainless steel Submariner, also with a black dial and black ceramic bezel.
Caroline Wozniacki's Rolex Watch
Cinching her first Grand Slam title just this year at the Australian Open and currently ranked No. 2 singles player on the WTA tour, 2018 is shaping up to be a good year for Caroline Wozniacki. The immensely talented Danish tennis player is now also hoping to grab a few more Grand Slams this season.
When Caroline Wozniacki proudly kissed her Australian Open trophy, we couldn't help but notice her sumptuous platinum and diamond-set Daytona chronograph gleaming from her wrist. That's one seriously luxurious Rolex watch and a gorgeous example of a woman wearing a so-called man's Rolex watch.
With two more tennis Grand Slam tournaments set to take place this year—Wimbledon and US Open—we'll be rooting for a victory from any of the Rolex tennis ambassadors. Maybe then, we'll see the new stainless steel GMT-Master II Pepsi with the Jubilee bracelet make an appearance alongside a tennis trophy.
— Featured Photo Credits: Official and Fan Instagram of Celebrities in this Blog Post.