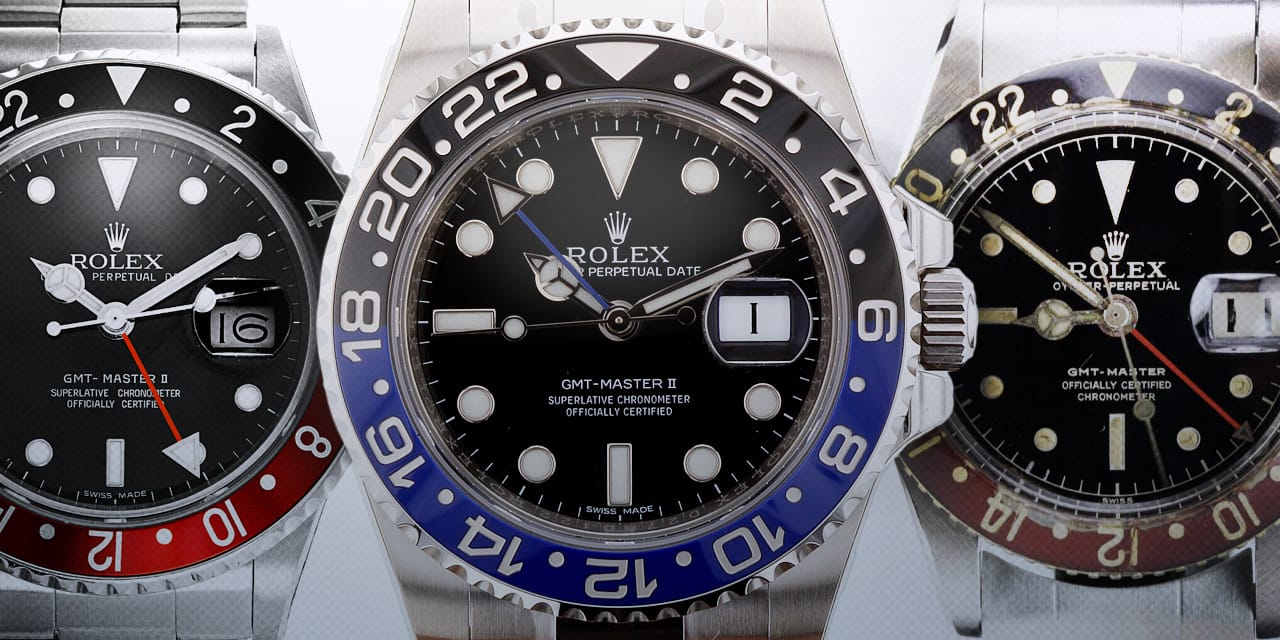 What is Cool about the Updated Rolex GMT
When one speaks of watches that fall into the "tool watch" category, the Rolex GMT is certainly of them. The Rolex GMT was designed for a particular purpose rather than to look elegant. The Rolex GMT evolved since its debut at the 1953 Basel Watch Show with improvements to both functionality and utility. Rolex's latest incarnation, the Rolex GMT 116710 released in 2007 improves upon old features, and introduces some new ones that make it one cool watch.
A little history on GMT monikers
The first Rolex GMT, reference 6542 with its fragile Bakelite bezel, was also known as Pussy Galore because her character wore this model in the James Bond movie Goldfinger in 1964. Later in 1983, Reference 16760 was nicked named the Sophia Loren or Fat Lady because of its thicker case. The 16760 Fat Lady was the first Rolex with white gold hour markers, sapphire crystal, and independently adjustable 24 hour hand, all features found in modern Rolex GMT's today. Currently, the newer 116710 is referred to as the GMT-C because of its updated ceramic bezel insert versus the GMT-T that has the traditional aluminum bezel insert.
Yes Mildred, it's bigger
Although the case size is still 40mm, the GMT-C case is thicker, slightly longer, and certainly heavier than the GMT-T's and its predecessors. The larger case is well balanced by the updated Oyster bracelet and clasp. Before the GMT-C, the bracelet used hollow-links, and the "tuna-can" clasp, but the GMT-C utilizes solid bracelet links, and a OysterLock clasp that that is an engineering marvel. The new clasp is machined rather than stamped, and includes Rolex's EasyLink, a half-link adjustment that can be utilized on the fly.
Ceramic, the same stuff used on the Space Shuttle
The GMT-C has a redesigned 24 hour bezel. The bezel, used in conjunction with the 24 hour hand is used to track two or three timezones. The traditional aluminum bezels were known for fading over time. Rolex addressed this by using a pressed ceramic insert, and numbers inlaid with either platinum for the stainless case, or gold for the two-tone or all gold case. Ceramic is fade proof and highly resistant to scratches and heat like the ceramic tiles used on the space shuttle. The bezel utilizes a new anchoring mechanism and clicks in 1 hour increments over four ceramic spring loaded bearings. The GMT was Rolex first watch to utilize ceramic which has since waterfalled to all their watches in their sports line, with the notable exception of the Explorer II.
The insides and the watch face are different too
The GMT-C utilizes a new movement, new hairsping, and redesigned watch face. More on these features in future posts about the GMT-C.
— Featured Cover Photo: BeckerTime's Archive.