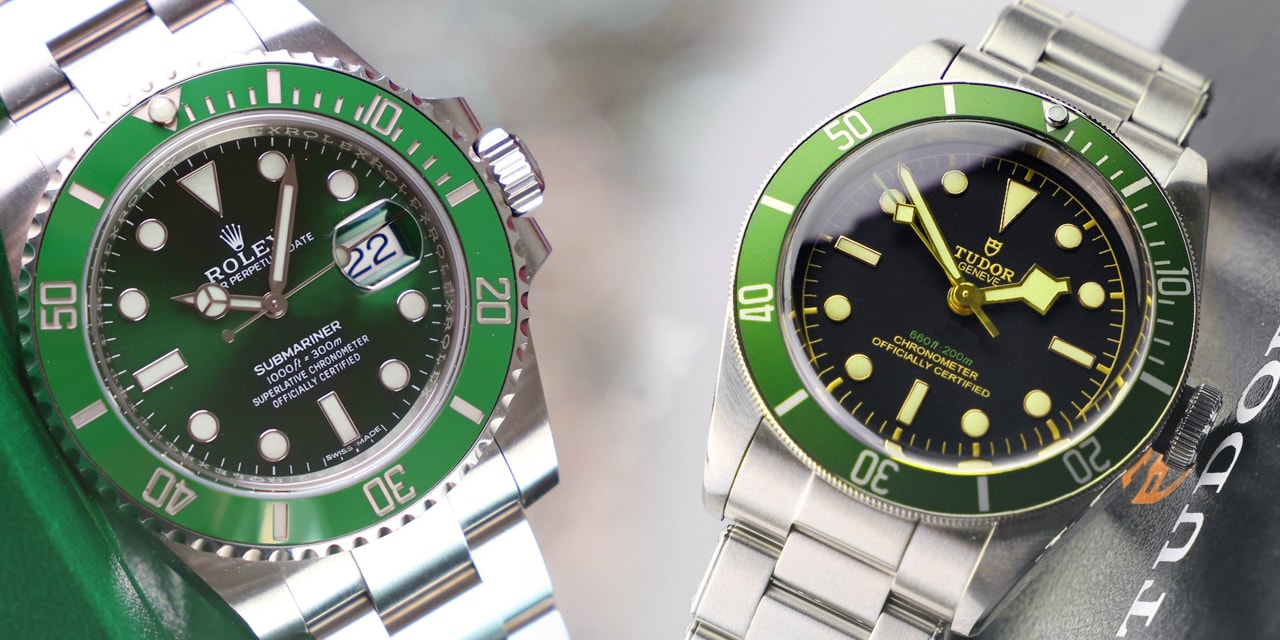 What's the Difference between Tudor and Rolex?
The Difference Between Tudor and Rolex Is The Movement
A watch that looks and feels like a Rolex but does not have a Rolex logo just might be, in fact, a Rolex. But, is there a difference between Tudor and Rolex watches? Rolex has a sister line known at Tudor. At the time of this writing, Tudors were not prevalent in the United States. This was because Rolex USA didn't import Tudor watches. During this time, we found them on the secondary and pre-owned markets because people brought them into the U.S. However, now with Tudor coming to the United States, it will present other mid-priced watch brands with some healthy competition.
Many automobile companies have two different models at differing price points. Well, Rolex has a similar structure with Tudor. Tudor watches utilize the same case material and similar design, similar bracelets and dials. However the movement is typically a Swiss made ETA or Valjoux movement, rather than an in-house Rolex movement. In fact, Rolex manufactures, distributes, and services both watches. But, the differences are in style, movement, and price points. Also, Rolex intended Tudors to appeal to a wider international audience.
Styles and Materials
Traditionally, Rolex watches exemplify "evolution" rather than "revolution." Because of this, Tudor models are markedly different from the traditional Rolex line. Tudor allowed Rolex to experiment with styles and materials that were not generally found in the staid Rolex model line. The utilization of cloth watch straps, titanium cases, vibrant colors and dials are commonplace for Tudor. Honoring the Tudor period in England, Hans Wilsdorf unveiled the line in 1946 with the intent of having a Rolex pedigreed wristwatch available to the common man. Early Tudors have a Tudor Rose emblem, which changed to the Tudor shield during the 1960's.
Moderate Prices
Because Tudors utilize the same case, crown, crystal, and bracelet design as Rolex, Tudors are the go-to tool watch for many entities including sportsmen and various branches of the armed forces. Up until that last few decades, Tudor watches utilized Rolex signed crowns, bracelets and crystals. The difference between Tudor and Rolex was the movement inside and its respective price point as a result of the less expensive ETA or Valjoux movement. However, Rolex Tudor always recognized the advantage of their direct connection to Rolex in order to improve their sales.
Essentially, a Tudor is a Rolex. Similar packaging, similar styles, similar quality and timing, similar metal (both gold and stainless models), and both are serviceable at any Rolex Service Center.
— Featured Photo Credit: Pixabay's (cc) Archive.