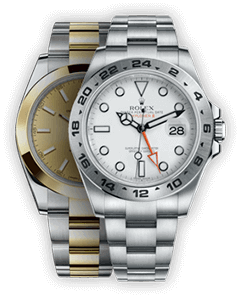 Popular Mens Used Rolex Models
Today, the mens used Rolex watch collection is currently the most recognized assembly of timepieces among luxury watches.  But, it wasn't always that way. When Rolex began in 1905, the pocket watch was still the only acceptable way for men to tell time. It wasn't until two world wars later that watches for men significantly surged in popularity. By 1945, Rolex was in a position to take advantage of this newfound popularity. They soon launched their mens Rolex aviation-themed models, dress watches, and sports lineup.
And, if you're in the market for a mens Rolex watch, such as a Rolex Datejust, Rolex Presidential Day-Date, or sports model, BeckerTime is your trusted source for authentic Rolex watches for men and women.
Whether you seek adventure diving the oceans, auto racing, or blazing business trails in the boardroom, our selection of popular mens used Rolex watches offer a timepiece perfectly suited to just about anyone.
Simply browse our huge inventory of authentic Rolex watches for men below. Then, select your style or let our expert staff help make that ultimate difference for you.