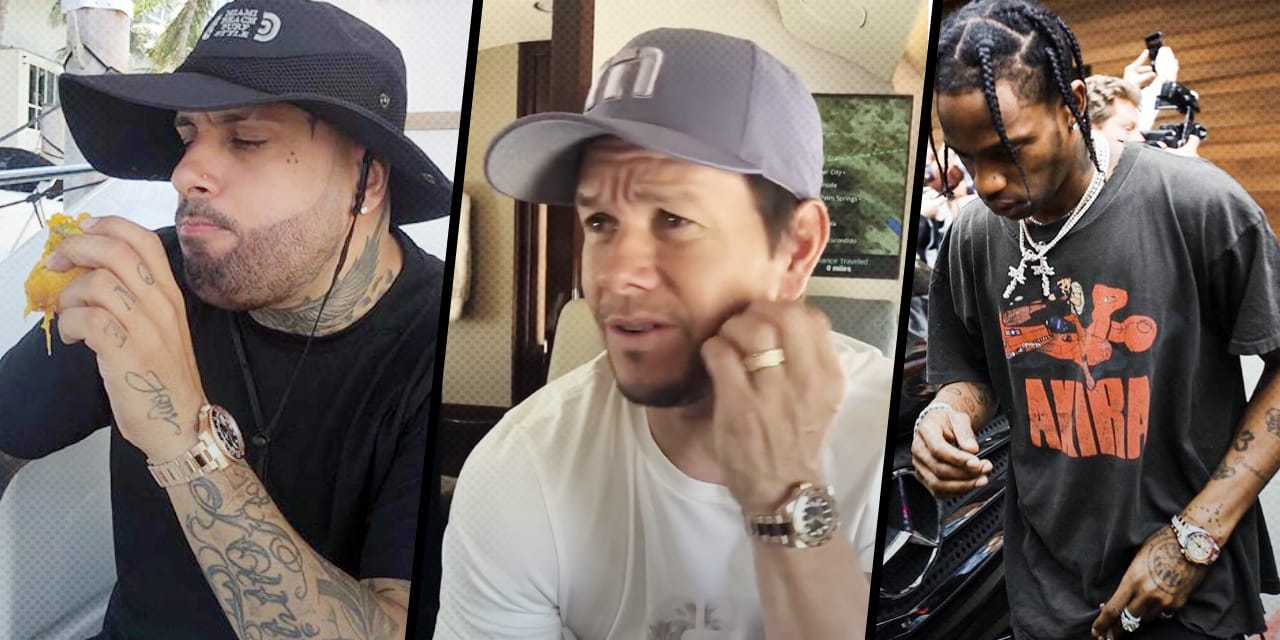 Celebrities Flaunting New Rolex Watches from Baselworld 2018
As many of you know, Rolex released a fantastic selection of new watches at Baselworld 2018. From new GMT-Master II models to a new bejeweled Daytona to an updated Deepsea, Rolex unveiled some real lookers this year. So the moment the curtains dropped at the Rolex Baselworld booth, phones were ringing off the hook at boutiques all over the world with Rolex fans trying to get their names at the top of the waitlist. A way to bypass those long lines? Celebrity status of course! Here are some celebrities wearing brand new 2018 Rolex watches pretty much before anyone else.
Mark Wahlberg Wears the New Rolex GMT-Master II 126715CHNR in Everose Gold
We were already aware that Mark Wahlberg is one of the biggest celebrity Rolex watch collectors around. He's especially fond of solid gold Rolex sports watches, so it's not surprising that the mega Hollywood star would be one of the first to own the brand new Rolex GMT-Master II ref. 126715CHNR in Everose gold!
Crafted entirely in Rolex's patented pink gold and sporting a black and brown Cerachrom ceramic bezel, some refer to this Everose GMT-Master II as the new "Root Beer" GMT due to its color combination. We caught a glimpse of Mark Wahlberg wearing his new rose gold GMT-Master II during a video he uploaded to Instagram and it looks fantastic on his wrist.
Nicky Jam Wears the New Rolex GMT-Master II 126715CHNR in Everose Gold
With close to 24 million followers on Instagram, singer/songwriter Nicky Jam's celebrity status is undeniable. In fact, along with Will Smith and Era Istrefi, Nicky Jam is one of three artists behind the FIFA World Cup 2018 official song, Live it Up.
Just like Mark Wahlberg, Nicky Jam opted to add the new Everose gold GMT-Master II 126715CHNR to his watch collection—also spotted on his Instagram account.
Travis Scott Wears the New Rolex Daytona Rainbow 116595RBOW in Everose Gold
Perhaps one of the most controversial Rolex releases of the year was the new Everose Daytona ref. 116595RBOW with a rainbow-colored sapphire-set bezel and multi-colored sapphires on the dial.
Whether you love it or hate it, this is one ultra-lavish Daytona chronograph that flaunts just how masterful Rolex are with gem-setting. While the Rainbow Daytona that was featured in all the official press pictures had a black dial and a solid Everose Oyster bracelet, there is also another version of the Everose Daytona Rainbow that's even more opulent. Taking it even further, the second version of the ref. 116595RBOW includes a full diamond pavé dial and diamond-set bracelet to complement that rainbow sapphire bezel.
We've spotted rapper Travis Scott with that full diamond dial version of the Rolex Daytona ref. 116595RBOW gleaming from his wrist. What's more, he even posted a video with a close up of the sparkling Rolex and in the background we hear his song, Watch, playing in the background. The well-placed lyrics? "Look at your Rollie, uh, look at my Rollie, uh. That's a small face, uh, this a big face, uh."
The stainless steel GMT-Master II ref. 126710 BLRO with the Pepsi bezel and Jubilee bracelet was by far the biggest Rolex release of 2018. Although we haven't spotted any celebs wearing one in public just yet, stay tuned because it won't be long until we see a few on some famous wrists!
— Featured Photo Credits: Official and Fan Social Networks of Celebrities in this Blog Post.