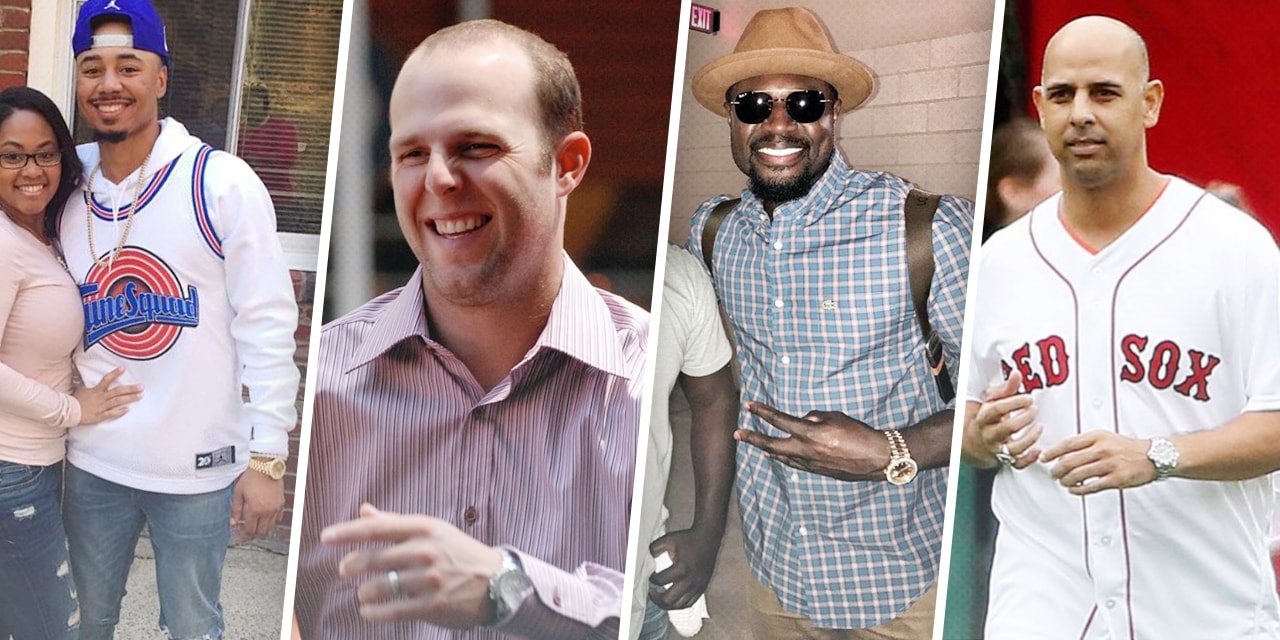 The Rolex Watches of the Boston Red Sox
Following up our article on the Rolex watches of the LA Dodgers in honor of World Series week, we now take a look at the other MLB team battling it out for the championship title—the Boston Red Sox.
Mookie Betts's Rolex Watch
Outfielder for the Boston Red Sox, Markus Lynn "Mookie" Betts was drafted by the team in 2011. He made his Major League Baseball debut in 2014. So far, Mookie Betts won the Golden Glove award twice and the Silver Slugger award once. And just this August, Mookie Betts hit for the cycle. For those not familiar with baseball, this means he hit a single, a double, a triple, and a home run in the same game.
Aside from his sporting achievements, Mookie Betts is also often referred to as one of MLB's most stylish athletes. And on his wrist often sits a yellow gold Rolex Day-Date President to top it all off.
Dustin Pedroia's Rolex Watch
Second baseman Dustin Pedroia has spent his entire career in Boston. This is where he won the World Series with the Red Sox in 2007 and 2013. Unfortunately, he's sitting out this World Series due to a knee injury. But he's always on hand for moral support and rallying the team.
In his book, Born to Play: My Life in the Game, Dustin Pedroia tells the story of when his ex-teammate Manny Ramirez gave Pedroia a Rolex watch to congratulate him on getting Rookie of the Year award. But before he could open the box, Manny Ramirez smashed the box with a bat! Thankfully, this did not harm the watch. Also, Dustin Pedroia admitted on a recent podcast interview that he "still has the watch and wears it all the time." However, we're not sure what Rolex model it was. But judging by this picture of Dustin Pedroia wearing a stainless steel Daytona, it could have been that one.
Brandon Phillips' Rolex Watch
Currently second baseman for the Boston Red Sox, Brandon Phillips, aka "DatDude," has played for a host of other teams. These include Cleveland Indians (2002–2005), Cincinnati Reds (2006–2016), Atlanta Braves (2017), and Los Angeles Angels (2017). Over the course of his career, the 34-year-old has won the Golden Glove four times, the Silver Slugger award once. He's also part of baseball's 30–30 club after having collected 30 home runs and 30 stolen bases in a single season.
Just like teammate Mookie, Brandon Phillips is also a fan of a classic yellow gold Rolex Day-Date watch fitted with the famous President band. However, DatDude's Rolex President is one of the larger sized ones. It's either the Day-Date II or the Day-Date 41 and shines bright with a gleaming diamond-set bezel.
Alex Cora's Rolex Watch
Former infielder Alex Cora played with several teams during his 13-year career in Major League Baseball including Los Angeles Dodgers (1998–2004), Cleveland Indians (2005), Boston Red Sox (2005–2008), New York Mets (2009–2010), Texas Rangers (2010), and Washington Nationals (2011). Alex Cora won the World Series as a player with the Red Sox (2007) and as a coach for the Houston Astros (2017). This year he returned to the Boston Red Sox as the team manager.
While these days Alex Cora mostly wears an Apple Watch during practice and games, we have spotted him wearing a stainless steel Rolex Submariner with a black dial and black bezel in the past.
In a few days, we'll find out who will be the champions of the 2018 World Series. Will it be the LA Dodgers or the Boston Red Sox?
— Featured Photo Credits: Official and Fan Instagram of Celebrities in this Blog Post.