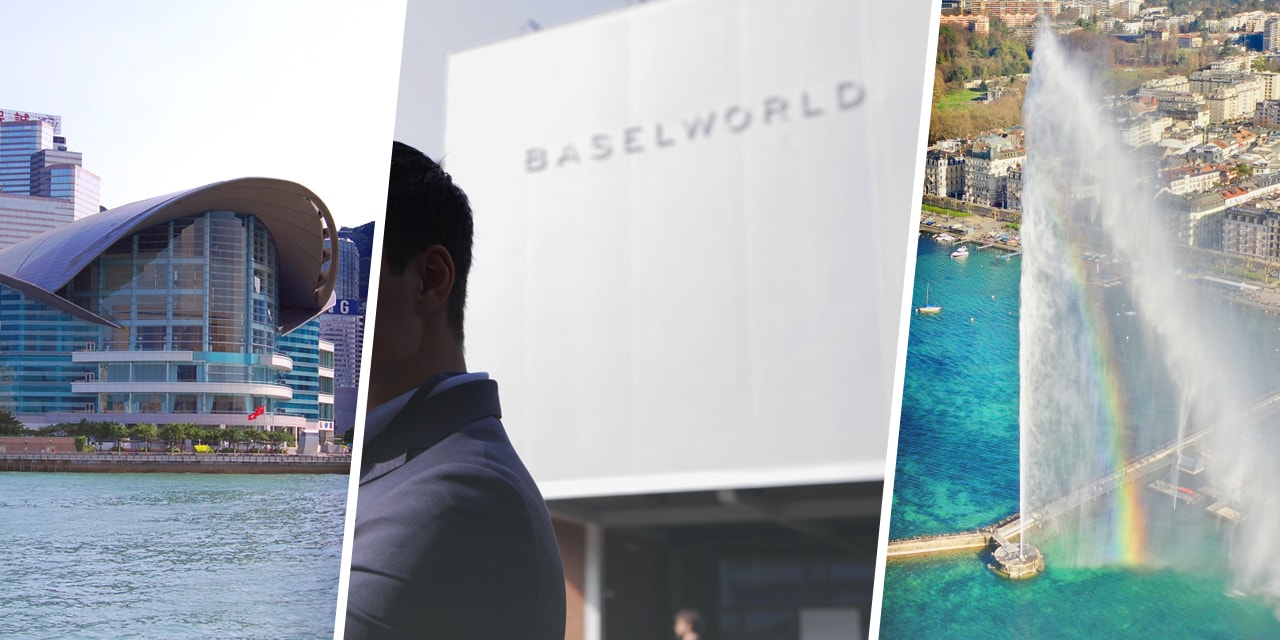 Watch Exhibition Recap 2021
With the year drawing to a close, we thought now would be a great opportunity to take a quick look back at some of the best luxury watch exhibitions which have taken place over the last 12-months.
Obviously, with the pandemic still very much with us, all shows have had to make certain concessions for safety. But that doesn't mean there haven't been plenty of talking points, and of course, some spectacular watches announced.
Baselworld 2021
One expo no one really expected to see, ever again if we're being honest, was Baselworld.
Once the world's biggest and longest-running watch and jewelry show, their recent history of mismanagement, rising costs and—let's just say it—blatant greed had seen practically every major brand in the industry peel off and make other arrangements.
COVID put the scuppers on last year's event, with most thinking the 100+ year old exhibition was disappearing ignominiously into that good night.
What they were actually doing, as it turned out, was having a revamp and a rebrand.
However, that rebrand didn't last very long. With a change of name to HourUniverse last year and the addition of a permanent online presence, the owners, MCH Group, had planned a physical show in April. But as with so many things, the pandemic forced a pushback, first to June, then to September and finally, to the end of March 2022. Looking on their website now though, that too has been cancelled, with no information on when, or if, an exhibition will ever take place.
What we do know is that the HourUniverse name is no more, the Baselworld name is back and MCH Group did in fact manage a pop-up show in Geneva on the 30th August to 4th September 2021. That date meant it coincided with Geneva Watch Days, one of the newest industry events created, ironically enough, in 2020 to fill the gap created by the cancelled Baselworld show.
That standalone summer exhibition could not have been more different to the enormous showcases of old. It was clear the Baselworld brand had to change after their public relations nightmare of the last few years and managing director, Michel Loris-Melikoff described this latest iteration as a 'B2B platform in the mid-range luxury segment', which, if you were cynically minded, might strike you as just another way of saying 'none of the really big names want to play with us anymore.'
So instead of the literally thousands of exhibitors and hundreds of thousands of visitors Baselworld used to attract at its peak, this scaled-down affair comprised just 10 manufacturers showing their wares.
Those 10 were selected for their 'independent profiles and their distinctive positioning' according to organizers and included the likes of Claude Meylan, makers of some beautiful skeletonized pieces, BOMBERG, a highly energetic new-school watchmaker, and Ikepod, originally founded by renowned industrial designer, Marc Newson, later to go on to design the Apple Watch.
So, all in all, this year's Baselworld was vastly different to previous years and marks the start of a new era for the much maligned event. Where they go from here, who can tell?
Watches & Wonders 2021
Still better known to most as SIHH (Salon International de la Haute Horlogerie), the freshly renamed Watches & Wonders event is quickly taking the place of Baselworld as the must-attend exhibition in the industry.
Held every January since 1991, this is where some of the highest of high end marques come to show off their very latest work.
However, even that doesn't make them immune to the effects of the pandemic, and so organizers were forced to adapt by making the main show an online one for 2021. So visitors to the free digital platform—under the slogan 'Let's Connect'—were treated to, among many others, A Lange & Söhne's new Lange 1 Perpetual Calendar model, now featuring a moonphase and day/night indicator. Available in either a 41.9mm pink gold case with silver dial or a limited edition white gold piece with salmon dial, the watches retail for $104,500 and $116,000 respectively.
Elsewhere, Bulgari arrived with new perpetual calendars of their own, in their record-breaking Octo Finissimo line; the thinnest mechanical watches with the complication ever made. The distinctively octagonal, 40mm models are just 5.8mm high but still manage to pack in multiple subcounters presenting a retrograde date indicator, day and month dials and even a leap year display. For the event, Bulgari made them in sandblasted titanium with color matched dial or polished platinum with blue dial and bracelet. Expect to pay around $59,000 and $89,000 respectively.
Happily, by mid-April, Watches & Wonders was able to hold a physical exhibition as well as virtual one. Relocating to the West Bund Art Center in Shanghai, China, here exhibitors included Rolex, who turned up with armfuls of debuts, including three Daytonas with meteorite dials and the controversial new Explorer, reduced back to 36mm from its brief foray up to 39mm and, for the first time, cast in Rolesor.
Also showcasing their wares was sister company, Tudor, who unveiled the Black Bay Chrono for the first time. Looking, ironically enough, like an old-school Daytona, the model made a huge impact and has, like nearly everything else Tudor has touched recently, been selling in the bucketload.
Geneva Watch Days
This was an event born very much out of necessity in 2020, when a number of manufacturers (Bulgari, Breitling, De Bethune, Gerald Genta, Girard-Perregaux, H. Moser & Cie, MB&F, Ulysse Nardin and Urwerk) joined up to do their level best to lessen the impact brought on by the COVID pandemic.
While it was only ever meant to be a stopgap, giving a hungry industry at least something to look at in the absence of Baselworld and the delayed Watches & Wonders, it was such a success that it has now been made a permanent fixture on the exhibition circuit.
This year, 27 brands descended on Geneva's Rotonde du Montblanc and other locations around the city, accompanied by 350 retailers and more than 300 journalists, from the 30th August to 3rd September.
The hybrid event, comprising both physical and digital aspects (and lumbered with the expression 'phygital', unfortunately) welcomed names such as Arnold & Son, Doxa, Oris, Parmigiani Fleurier and Maurice Lacroix, among others and alongside the original founders.
As for the watches, Breitling rocked up with three chronographs to add to their Top Time collection inspired by legendary muscle cars; the Chevy Corvette, Ford Mustang and Shelby Cobra. Featuring different color dials based on their corresponding autos (red and black for the Corvette, green and black for the Mustang and blue and white for the Shelby) the models are pure '60s nostalgia.
Urwerk brought us a new type of alloy, based on a type of gold used for ancient Greek coins. Called Electrum, the brand used it on a reissue of their UR-100 model from 2019. Taking the theme further still, this new piece also features concentric rings carved into the case, reminiscent of the tiered seating of an amphitheater.
And Ulysse Nardin presented five new additions to their Marine Torpilleur line, nautically-inspired chronographs built to celebrate the manufacture's 175th anniversary and containing Silicium escapements; a high tech material we saw originally on their 2001 Freak watch.
The Hong Kong Watch & Clock Fair
A long running annual trade show dating back to 1982, the Hong Kong Watch & Clock Fair takes place every September at the Hong Kong Convention and Exhibition Center.
The five-day event hosted an enormous 830 exhibitors from 22 countries, taking in everything from complete watches to parts and components, equipment and machinery and even packaging.
The world's largest timepiece event, organized by the Hong Kong Trade Development Council (HKTDC), Hong Kong Watch Manufacturers Association Ltd. and The Federation of Hong Kong Watch Trades and Industries Ltd., the majority of the brands on show are of Asian origin, but with a healthy international contingent too.
Highlights of the show include the Brand Name Gallery and the Pageant of Eternity, both mini exhibitions of elite luxury watches.
As well as granting the opportunity to see the latest and best innovations from all sectors of the industry, the event is known as one of the best networking opportunities of the year.
Dubai Watch Week
And finally, another relatively new exhibition which is fast becoming one of the most popular events in the calendar.
Dubai Watch Week was only established in 2015, and is now among the industry's largest non-commercial shows, one roundly praised for its excellent organization and welcomingly informal atmosphere. There are, for example, no closed booths or staff 'gatekeepers' stopping the visitors from getting up close with the pieces on display. Instead, you are more likely to encounter the brand's CEO or other company heavyweight personally showing the eager throngs just what they have to offer.
And the models they bring with them tend to be very special indeed. While there are plenty of the more accessible names in the show (Tudor, Bell & Ross and Oris all had stands), many of the 51 exhibitors use Dubai Watch Week to reveal strictly limited edition models in the million dollar-plus range.
But what has really set the event apart, since the beginning, is their horology forums. These open discussions cover all manner of watchmaking and technology topics, with the main aim being the dissemination of valuable knowledge among manufacturers, collectors and members of the press. This year, the panels included Audemars Piguet head, François-Henry Bennahmias, and Breitling CEO, Georges Kern.
An Expo which is only growing in status every year, Dubai Watch Week is on its way to being an unmissable event.
— Featured Photo: edwin.11, CC BY 2.0; Life Inspired TV, CC BY-SA 4.0; Bernard Vogel, CC BY-SA 4.0, via Wikimedia Commons.