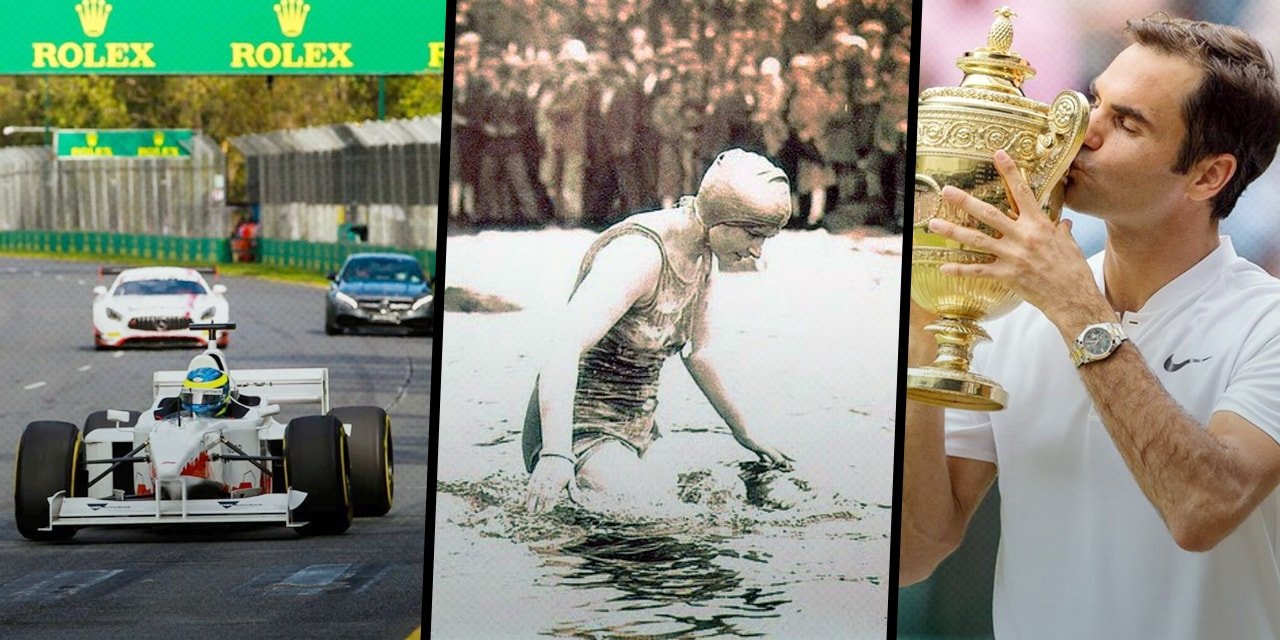 High Performance: Rolex and Sports
Rolex has been a part of the global sports scene for a long time. Remember, when swimmer Mercedes Gleitze swam across the English Channel in 1927, she had a Rolex Oyster around her neck! Even after 10 hours submerged in cold waters, the Rolex Oyster continued to work perfectly. The founder of Rolex, Hans Wilsdorf wanted the world to know about this incredible waterproof timepiece, so he took out a full-page ad in the paper announcing the Oyster's journey with Mercedes Gleitze—and the idea of the brand ambassador was born.
Since time is a key component to succeeding in sports—whether it's being the fastest, the most precise, or just getting the timing right—it makes complete sense that Rolex continues to support the sporting scene.
From motorsports to sailing to golf to equestrianism to skiing to tennis, Rolex has selected a handful of sports to back. And just how does the Swiss watchmaking giant align itself with these particular sports today? Typically, by sponsoring key events by being an Official Timekeeper and by counting top athletes as ambassadors.
Rolex Sponsored Sporting Events & Ambassadors
Some Rolex sports ambassadors include Tiger Woods, Jordan Spieth, Roger Federer, Lindsey Vonn, Nico Rosberg, and so many other globally recognized athletes. In fact, until just a few years ago, Rolex used "A Crown for Every Achievement" as their slogan with plenty of pictures of their ambassadors holding trophies. The brand has now since moved on to a new mantra, "Every Rolex Tells a Story," and has since shared videos of how their preferred sportsmen and sportswomen have achieved their successes.
If you're an avid fan of Rolex supported sports, you will have do doubt seen plenty of branding at some high profile events. You simply can't miss the famous Rolex scoreboard at Wimbledon, the leader board at The Open golf major in Scotland with the Rolex clock on it, and all the branding at the Australian Formula 1 Grand Prix. Plus, let's not forget the events where Rolex is the title sponsor: Rolex 24 At Daytona (motorsports), Rolex Sydney Hobart Yacht Race (sailing), Rolex Central Park Horse Show (equestrianism), Rolex Grand Slam of Eventing (equestrianism), the Rolex Shanghai Masters (tennis), and the Rolex Monte-Carlo Masters (tennis).
Rolex Watches for Athletes
Also worth noting is how Rolex aligns specific watch models with certain sports. Obvious examples are the Daytona chronograph with motorsports given its time recording capabilities and the Yacht-Master II for sailing due to its regatta chronograph. But Rolex also positions the Datejust 41 as the go-to Rolex for tennis players to wear off the court, the Day-Date 40 as the must-have for golfers when they're not swinging a club, and the Oyster Perpetual 39 as the ideal watch for equestrians whilst not riding.
Rolex doesn't currently sponsor any favorite American sports like football, basketball, baseball, or hockey. However, this certainly doesn't stop top athletes from these sports from wearing Rolex watches. NFL's Tom Brady wears a Milgauss, NBA's LeBron James wears a Day-Date President, MLB's Mariano Rivera wears a Sky-Dweller, and NHL's TJ Oshie wears a GMT-Master II.
In the luxury watch space, Rolex continues to be at the top of the leaderboard because the brand doesn't just offer luxurious watches for show, but they also make plenty of robust timepieces that can keep up with active lifestyles too. It's clear really; sports and Rolex is a match made in performance heaven!
— Featured and Body Photo Credits: Official and Fan Instagram of Celebrities and Events in this Blog Post.